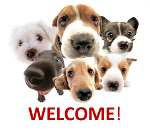 The comfort of your dog – both physical and emotional – is the most important part of our swim session.
And … your comfort is equally important!
WHEN YOU ARRIVE Please have your dog leashed for everyone's safety. Before entering the building, please walk around outside and make sure your dog goes to the bathroom. This is very important, so that your dog won't need to go while in the pool, requiring me to drain several hundred gallons of pool water! NOTE: If your dog has any incontinence issues, please let me know in advance.
GETTING ACQUAINTED We will begin by taking some time for me to greet your dog, especially during the first visit. Each dog is an individual, with his or her own history, health needs, lifestyle, personality, and preferences. I'm looking forward to getting to know both you and your dog! Our conversation also allows time for your dog to get acquainted with the new surroundings. Then we typically spend a few minutes playing with some puzzle toys or doing other activities in the playroom. This helps your dog relax and have fun, while I start building a bond of trust with your dog. I don't want to rush your dog into the water until we have a foundation to build on.
CALMING SIGNALS Throughout the session I will be paying attention to what your dog is communicating to me. My communication with them will involve body language known as "calming signals," which virtually all dogs know and understand (dogs use calming signals with each other, and even with humans). Calming signals communicate important messages to your dog, and I use them to reassure dogs that they can relax, unwind, and feel safe. Examples of calming signals include yawning, licking my lips, looking away, "pawing" the ground, and approaching your dog sideways instead of head-on. So if you see me yawn, it's not because I'm bored … I'm simply trying to help your dog feel safe and comfortable at Here Buoy!
MOVING INTO THE WATER Getting into the pool calmly and safely is a critical part of a dog's swimming experience, and an important aspect of training for Canine Aquatic Practitioners. For dogs under about 70 pounds, I can lift them into the water. For larger breeds, or for dogs who dislike being picked up, we can gently place their hind legs on the first shallow step, then gradually ease them in backwards. Most dogs are reassured by having their owners in sight, so comfortable chairs are located for owners at poolside. I do have canine life jackets available in five sizes, but your dog will likely swim more comfortably without one.
PROGRESSION We generally begin by having your dog stand in a few inches of warm water on the shallow steps of the pool, supported on my lap. Some dogs need a whole session just to get used to that new experience, but once they feel the soothing comfort of a warm water massage they normally start to enjoy themselves! Older dogs, or dogs whose activity has been restricted for health reasons, may spend most of their time soaking, and gaining the multiple benefits that warm water buoyancy provides to their bodies. Younger, healthier dogs, especially those who are already comfortable in water, can progress more quickly. When a dog is ready to swim, I support him or her as we glide farther into the pool. I follow along as your dog swims a couple of strokes, then I guide them onto a resting platform or a step. As your dog gains confidence in the water, he or she can be allowed to swim several strokes before we go to a resting platform. Some dogs like to choose a floating dog toy from the toy bin, and play fetch and retrieve in the water! Owners are encouraged to praise their dogs and pass out treats (healthy, USA-made treats are provided).
LEAVING THE WATER Once a dog is in the water with me, we will generally stay in the water until the end of the swim session. When your dog is ready to leave the water, I gently guide your dog up the steps and onto the deck, where you can help dry your dog (towels are provided). Some dogs are deeply relaxed after a warm soak (picture yourself after a massage), while others are invigorated and get "the zoomies." Either way, it's clear that they feel really good! Once we have toweled off your dog, you should take your dog outside for a quick potty break (being in water increases blood flow and helps the body eliminate metabolic wastes). Then you are welcome to relax with your dog in a comfortable grooming area; a doggie hair dryer is available along with brushes and other grooming tools. You may want to bring a towel to protect your car on the way home, since your dog may remain slightly damp.
PHILOSOPHY The activities and pace of each session depend on your dog's comfort level with the situation and with the water. We want your dog to develop a positive association with the water, so that soaking and swimming can improve your dog's physical and emotional well-being for life. We want the pool to be a GOOD THING, and we want you and your dog to eagerly anticipate your next visit to Here Buoy!